Captain Nick Kirby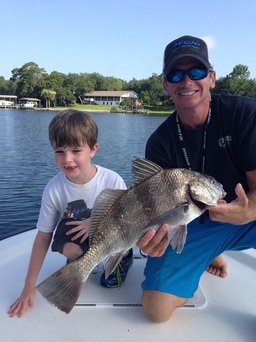 Owner and operator of Scallywag Charters Captain Nick Kirby will be by your side to offer you personal, professional and courteous advice no matter what situation arises. Captain Nick Kirby is a young second generation fisherman born and raised in the Bayous of Choctawhatchee Bay with over a decade of professional fishing experience, who learned the art of trout fishing from the best inshore fisherman the world has ever known. At the age of 15 Captain Nick started his professional charter fishing career in the Gulf of Mexico, with the help of ambition and passion he quickly excelled to the top tiers of fishermen. As owner and operator Capt. Nick Kirby will go above and beyond to guarantee your time on the water is nothing short of memorable.
---
Contact Captain Nick Kirby @ (850) 218-6827
Scallywag
The New Scallywag is a Beautiful 22' Cape Horn Bay series designed solely for the most intense fishermen while being backed by a 250hp Yamaha 4-stroke you can expect a quieter, drier, smoother, faster and more comfortable ride than any other vessel in its class. Equiped with a tower with complete controls for Daytime Bowfishing and sight fishing, top of the line chart-plotter/sonar for safe and pinpoint navigation, a premium sound system with Bluetooth capabilities for music while we fish. There is also plenty of dry storage for personal items during our Fishing Charters. The vessel is USCG rated for up to 6 passengers
FAQ
Q. How much does it cost?

A. We offer many different styles of trips which all vary in pricing. Please contact us for a quote of your next Fishing Charter

Q. What's included? what should I bring?

A. Our Fishing charters are kin to a trip to the beach. You'll want a hat/visor, sunglasses, sunscreen, camera and a small cooler with a few drinks and snacks appropriate to trip length.

Q. is there an age limit?

A. There is no "magic age" or height requirement to go on a Fishing Charter, we actually have trips designed specifically for younger anglers we will even supply more comfortable child and youth life preservers for prolonged use upon request.

Q. why is it customary to tip the captain? and what is a customary tip?

A. Along with professional fish cleaning services Captain Nick Kirby works hard long before the trip begins and far after the trip ends to ensure your trip is memorable and as enjoyable as possible. A 15%-20% gratuity is customary and complementary.

Q. Where is the vessel located?

A. The vessel is located at the Marbella Yacht Club of Destin at 770 Harbor Blvd Destin FL, 32541. (directly across from the Destin Burger King).