What's Biting?
Sheepshead, Bull Redfish, Vermillion (mingo) Snapper, Triggerfish and Pompano.
Inshore Fishing Charters:
The water is warming up and the Redfish and Speckled trout are moving into the flats. With redfish ranging from 18" to 30lb "bulls" they can provide a drag screaming thrill of a lifetime when caught on light tackle (10-12lb class). Speckled trout are caught doing the same types of fishing with fish ranging from 15" to 6lb "Gators". These fish can also be caught using artificial top water baits which is one of the most exciting bites to get to watch and are both excellent eating fish.
---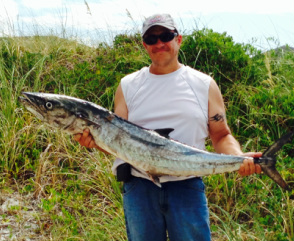 Nearshore Gulf Fishing Charters:
​The King Mackerels have arrived in full force, the bait is here and the Kings have followed right on their heels. Caught on light tackle King Mackerels can be a fight of a lifetime with extreme agility and incredible bursts of speed. These fish are typically caught trolling live baits or lures with an average fish ranging from 6-20lbs with smoker Kings in the 40's and 50's. We target these fish on our Near Shore Gulf Fishing Charters and are a good fish to eat when dressed and prepared correctly. Red Snappers will be available to catch in June this year with a relatively short season . These highly sought after fish are very strong fighting fish and are possibly the most targeted fish caught in Destin. Amberjacks are beginning to cover up our inshore wrecks as the water temps continue to rise. These fish are mostly catch and release nearshore but offer the best pull pound for pound you'll ever experience.
---
Kid Fishing Trips:
While Spanish Mackerel aren't known for being the hardiest of fighters but when paired with the right angler they are guaranteed to bring a smile from ear-to-ear. As the water continues to warm these fish will invade Destin by storm and we can target them on our Inshore Fishing Charters, Near-Shore Gulf Fishing Charters and Kid Charters. Spanish Mackerel are usually 12"-18" in length and can be caught multiple at once with light weight (8-12lb) tackle. Bluefish and Ladyfish (skipjack) are other common species captured while fishing for Spanish Mackerel and are the three major species targeted in our Kid Fishing Charters. Bluefish range anywhere from 2-10lbs while being extraordinarily strong for their size, Ladyfish (skipjack) range from 1-5lbs and are highly acrobatic and Spanish Mackerel being a good eating fish. These three species of fish make for a dynamic trio for our Kid Fishing Charters.
---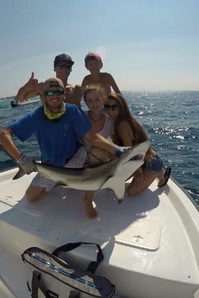 With the water warming rapidly and fishing season in full swing our resident sharks have moved close Destin in search of easy food. With lots of smaller (30-90lbs) sharks very close to home and larger sharks (150+lbs) in some deeper waters it gives us an opportunity to do battle with some of fiercest creatures swimming in the Gulf of Mexico.
---
Contact Captain Nick Kirby @ (850) 218-6827