Fishing Charters
Inshore Fishing Charters
On our inshore fishing charters you can expect to be fishing with light spinning tackle in the Choctawhatchee bay, the Intercostal waterway & surrounding bayous and inlets. Most of the fishing on these trips takes place over grass flats, docks, bridges, jetties and oyster beds with live bait and light tackle (12lb class). Our fishery changes throughout the year but the most common year round species are Redfish and Speckled trout. other species such as Mangrove Snapper, Sheepshead, Pompano, Spanish Mackerel, Flounder, Bluefish, Ladyfish and Jack Crevelle can be targeted seasonally.
Don't think just because you'll be using light tackle you won't have the opportunity to hook into monsters, Bull redfish are one of the Apex species which we commonly target on light tackle which will take you for the ride of your life and put every ounce of skill you have into play.
---
*Our Inshore charters are $125 per hour with a 4 hour minimum for 1-4 passengers*
**we can accommodate up to 6 total passengers for $100 per additional passenger (over 4) to the trip total**
​
4 hours
- $500
5 hours
- $625
6 hours
- $750
Nearshore Gulf Charters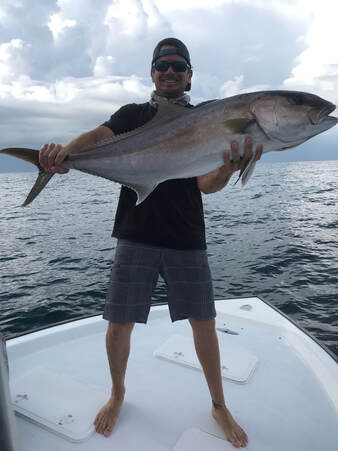 The bottom contour offshore of Destin, FL drops off relatively quickly for the Gulf of Mexico giving us more fishing opportunities than other parts of the Gulf of Mexico. While the fishing in the gulf nearshore is great year round we have seasonal species closures that prevent us from harvesting most species year round (that certainly doesn't mean we can't go catch and release them). Fishing in the Gulf can be done in multiple ways from Bottom fishing, Trolling for pelagic species or even sight fishing on the beach.
Bottom fishing you can expect to fish in anywhere from 60-120ft of water for reef species such as Red snappers, Vermillion Snappers, Red Porgies, Grey Triggerfish, Amberjack, and a few species of groupers over both natural (hard) bottom and artificial wrecks with either live or dead baits.
Trolling is usually done over wrecks or natural bottom with natural or artificial baits on light or medium tackle for pelagic species such as King Mackerel, Spanish Mackerel, Blackfin Tuna and Sailfish.
Sight fishing the beach is one of the most exciting ways to target bull Redfish, Cobia, Jack crevelle and Tarpons. as the name suggests we drive along the beach spotting the targeted species and cast at individual or schools of fish. There aren't many things more exciting than watching the fish you spotted from a distance inhale a live bait on a perfect cast and every one of the fish we catch doing this style of fishing love to peel drag.​​
---
*Our Gulf charters are $150 per hour with a 4 hour minimum for 1-4 passengers*
**we can accommodate up to 6 total passengers for $100 per additional passenger (over 4) to the trip total**
4 hours
- $600
5 hours
- $750
6 hours
- $900
Kids fishing Charters
Captain Nick Kirby and Scallywag Charters kids fishing charters are the highest rated Kids fishing charters in Destin, FL but don't take our word for it, come and see why for yourself. There's nothing quite like watching your son, daughter, grandson or granddaughter get excited about fishing and that's exactly what these trips are all about! Captain Nick will treat your kids like they are his own and do everything possible to ensure their time on the water is nothing short of amazing and have them begging to come back for more.
What to Expect:
​ On these trips you can expect to be fishing in comfortable weather conditions and something you'll hear Capt. Nick say regularly is " I'll never take your kids anywhere I wouldn't take mine". Our bay and surrounding waterways always provide an opportunity to escape light to moderate weather and still fish comfortably.
As a father of young kids Captain Nick understands the attention span of younger anglers isn't the same as adults and we've geared these trips around that. We keep the ride as short as possible and fish for whatever is biting best to keep the action as fast as possible with minimum downtime.
​ We are 100% all about catching fish but sometimes there's a point where you've caught enough fish, yep sometimes kids get done with fishing before the adults are and that's ok. These trips are about making awesome fishing memories and if a dolphin cruise, looking for sea turtles or a swim at crab Island after they are done fishing is what makes their experience any better we can make it happen.
*our Kids Trips include everything you need for 1-4 passengers*
​
**we can accommodate up to 6 total passengers for $100 per additional passenger (over 4) to the trip total**
3 hours - $400
---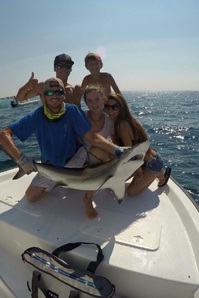 Shark Fishing Charters:
​On our shark fishing charters there are a few different way we fish. the most common method of shark fishing is on anchor while chumming and soaking large baits ( stingray or bonito slabs) for 200+lb sharks. Depending on the weather we typically fish 2 - 3 rods at a time dedicated to sharking but if conditions allow we may have the opportunity to fish for other fish while we are waiting for jaws. Sight fishing smaller (60-120lb class) sharks with pitch baits
in
shallow water is the other style of shark fishing that can be done in the summer months. both styles of shark fishing are equally impressive with the sheer power of the larger reef sharks and the agility and acrobatic display of spinner sharks and black tips we catch on medium/heavy spinning gear in shallow water. Each never fail to disappoint on the display of power the Apex predators of the Gulf of Mexico put on display.
​
---
*Our Shark charters are $150 per hour with a 4 hour minimum for 1-4 passengers*
**we can accommodate up to 6 total passengers for $100 per additional passenger (over 4) to the trip total**
4 hours
- $600
5 hours
- $750
6 hours
- $900
Contact Captain Nick Kirby @ (850) 218-6827